Our Noble Purpose
Why do we do what we do?
To actively and concretely contribute, in a sustainable and positively impacting way, to the progress and well being of Humankind, Society and the World.
How do we do that?
By inspiring around the globe leaders who impact Humankind, Society and the World to create beauty, joy and harmony in all their (inter)actions, projects, ventures, investments, organisations and enterprises.
We help these high impact leaders – CEO's & presidents, business owners and entrepreneurs, states(wo)men, leaders from cultural, societal, non-governmental or public organisations, heads of NGO's – transform themselves, and their organisations to places of contribution to society. We want to ignite in them the right consciousness, mindset and passion to go beyond their own interests, and therefore deeply connect with their noble purpose.
We – the community of exceptional people with exceptional stories going for exceptional impact – want to support them in becoming inspirators for a better society, a better economy and a better world.
We use our highly acclaimed and impactful House of Noble Purpose-methodology, where we align noble purpose, lovinship (loving & caring leadership), organisational culture (including values and guiding principles) and sustainable strategy.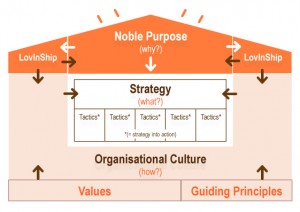 Our pledge
Always keep focus on and never get distracted from our noble purpose, in all our actions and interactions.
Being conscious about how we do what we do, and acting at all times in an integer and coherent way with our noble purpose.
Generate the highest positive impact through each of our actions, even when put under pressure.
Keep the balance between the interests of all our stakeholders whilst building our organisation on a sustainable basis.
Stand firm to our values and guiding principles, as basis for a deeply connected GINPI-community and a warm organisational culture.